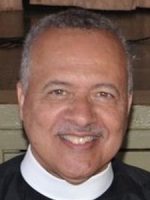 Reverend James F. Phillips
The Reverend Phillips has built his ministry on preaching a bible-based message of the liberating gospel of Christ Jesus for all people.
He is a native of Columbus, Ohio. Pastor Phillips graduated from Kent State University with a B.A. in U.S. History. He earned a Master of Divinity degree from Pacific Lutheran Theological Seminary and a Master's of Theology from Lutheran School of Theology at Chicago.
Pastor Phillips was a keynote speaker at the 2016 ELCA Churchwide Assembly in New Orleans, challenging Lutheran Christians to "Raise their expectations" in the struggle to make racial equity a reality for African-Americans.
Pastor James and his wife, Wanda Rosado-Martinez have been married for 34 years and have two adult sons, James and Antonio.