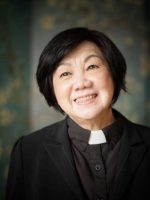 The Reverend Dr. Lai leads our Mandarin Worship service, evangelism programs and provides pastoral care. In 2014, she helped to develop a congregation of Chinese, Mandarin speaking Christians renting space at this location. In 2017, this congregation became members of Christ Lutheran Church West Covina.
Pastor Jean has earned a Master of Divinity and a Doctor of Ministry degrees from the International Theological Seminary of Los Angeles.
Pastor Lai has organized many evangelical programs such as a Prince of Egypt Musical and Chinese New Year concerts.
---
Our Vision 我们的異象
Our vision is to build a Chinese Congregation that is vibrant, restorative and nurturing for people's lives. By practicing the truths of the Bible and obeying the work of the Holy Spirit, church members will experience the renewal of the whole person, find the meaning and mission of life, and bring about the transformation of the city.
我們的異象是建立一間有活力、恢復且滋潤人生命的教會,藉著實踐聖經真理和順服聖靈工作,使會友經歷全人的更新,找到生命的意義和使命,帶來城市的轉化。
The Theme for 2023:  Draw me away! We will run after you (Song of Solomon 1:4)
2023年主題:願你吸引我,我們就快跑跟隨你(雅歌1:4)
---
Service Times 聚会时间
Chinese Congregation Sunday Worship
Sunday 11am (in the sanctuary)
華語主日崇拜:主日上午11點(在大堂)
Youth Fellowship
Tuesday 7:30 pm
青年團契: 週二晚上7:30
Bible Study
Friday 7:30 pm
缐上查經聚會: 週五晚上7:30 pm
The Alpha Course group (daytime group)
Not only builds the foundation of new believers' faith, but also trains witness ability and prayer service through this course.
週間啓發小組(白天小組)不僅為初信者的信仰建立根基,也藉此課程培訓見証能力和禱告服事。
---
Connect 联系我们
Pastor Jean Lai 歐錦霞牧師 626-487-6777
Pastor Wenyang Pan 潘文陽牧師 360-499-1695
---
We not only enthusiastically participate in community service, but also pay attention to care for our brothers and sisters. Welcome to join our family
我們不僅熱情參與社區服務,也注重肢體關懷交流活動,歡迎您加入我們這個大家庭
---